Instruction for presentations
Instruction for Oral Presentations
(ICoFF2019/ISNFF2019)
●

Time Allocation for Presentations

The time allotted for each presentation is as follows:
Plenary
35 minutes
Keynote
35 minutes
Symposium
Please ask and confirm the Japanese Moderator
Symposium

(pick up from contributions)

Sent by email for each
YIA Session
5 minutes (3 min. Presentation and 2 min. Q&A)
In order to ensure the smooth operation of the sessions, we ask you to keep to the time allocation as stated above.
●

Speakers should note the following
1. Arrive at the session room and inform the conference staff at least 20 minutes before the session starts.
2. Please be seated on the next speaker's seat in the front row during the session.
●

Audio Visual Equipment

All speakers are requested to bring their own PC or the data on a USB memory stick for presentation. The session rooms are equipped with a Windows laptop PC and LCD projector on which Microsoft PowerPoint is installed (OS: Windows10, Software: Microsoft PowerPoint 2010, 2013, 2016). Slides with aspect ratio of 4:3 is recommended for presentations.
●

Those who bring their data in USB memory stick

Speakers who bring their presentation data by a USB memory stick are required to use Windows format. The name of the file should be labeled with session number and their name as follows:
e.g. SY00-00_Name.ppt
●

Those who use their own laptop

In case the presenter use Macintosh or special software except PowerPoint 2010, 2013, 2016 for presentation, it is recommended to use their own laptop. PCs must have a display output interface with a D-sub 15-pin plug. If necessary, bring an adaptor.

PC Check

To avoid unexpected problems, it is highly recommended to check the connection or compatibility of own PC with the video projector on the podium in the session room of you will present by the break time before your presentation.
●

FOR YIA Presenters

YIA presenters are asked to prepare a presentation data in PPT and bring the data by USB memory stick. Please be sure to copy the data to PC in Room 503 in the morning of the session date.

Data submission for YIA presentations

Open hour: December 2, 8:30-12:00
Place: Room 503
Instruction for Poster Presentations
(ICoFF2019/ISNFF2019)
Poster Sessions will be held in Exhibition Hall.
Each poster presentation is allotted one poster board as shown below.
All presnters for Poster Sessions are responsible for mounting and removing their own posters on the designated poster board.
Size:
Width 90cm x Height 210cm (vertical)
Recommended usable area:
Width 80cm x Height 160cm
Poster Number:
A5 size (Provided by the Secretariat)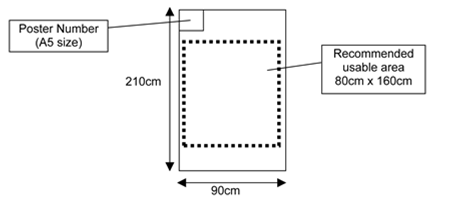 Presenters should use pushpins to put up their posters. Pushpins will be prepared by the Secretariat and provided in the session Room. Any other equipment or electricity for use of image/video projection will not be provided.
●

Schedule
Mounting
Core Time
Removal
Odd Numbers
Even Numbers
Poster 1
Dec. 2 (Mon.)
9:00-12:00
Dec. 2 (Mon.)

17:45-18:30

Dec. 2 (Mon.)

18:30-19:15

Dec. 4 (Wed.)
19:00 -19:30
Poster 2
Dec. 3 (Tue.)

17:45-18:30

Dec. 3 (Tue.)

18:30-19:15

Poster 3
Dec. 4 (Wed.)

17:30-18:15

Dec. 4 (Wed.)

18:15-19:00
Posters remaining after the removal due time will be removed and disposed by the Secretariat.
List of categories and presentation date is shown in next page.
●

List of Poster Categories and Session date

(assigned date are marked by "✔".)
Category
No
Poster 1
Dec 2
Poster 2
Dec 3
Poster 3
Dec 4
A)Sources and Products
Fermented Foods and Beverages
PA01
✓
Fruits and Vegetables
PA02
✓
Herbs and Spices
PA03
✓
Japanese Diet
PA04
✓
Marine Products
PA05
✓
Soy and Legumes
PA06
✓
Tea, Coffee and Cocoa
PA07
✓
Others
PA08
✓
B) Food Factors
Amino Acids
PB01
✓
Carbohydrates
PB02
✓
Carotenoids
PB03
✓
Lipids
PB04
✓
Minerals
PB05
✓
Peptides and Proteins
PB06
✓
Polyphenols and Antioxidants
PB07
✓
Probiotics and Prebiotics
PB08
✓
Sulfur Compounds
PB09
✓
Vitamins
PB10
✓
Others
PB11
✓
C) Functions and Mechanisms
Allergy and Immune Modulation
PC01
✓
Anti-inflammation
PC02
✓
Autophagy
PC03
✓
Bioavailability and Metabolism
PC04
✓
Bone Health
PC05
✓
Brain Health
PC06
✓
Cancer Chemoprevention
PC07
✓
Cardiovascular Health
PC08
✓
Chronobiology
PC09
✓
Exercise and Skeletal Muscle Health
PC10
✓
Exosome and microRNA
PC11
✓
Gastrointestinal Health and Diseases
PC12
✓
Metabolic Syndrome, Obesity and Diabetes
PC13
✓
Molecular Targets of Food Factors
PC14
✓
Nutritional Regulation of Epigenetics
PC15
✓
Protein Modification by Food Factors
PC16
✓
Redox Regulation
PC17
✓
Skin Health
PC18
✓
Others
PC19
✓
D) Others
Analytical Methods and Omics Technologies
PD01
✓
Animal Cell Technology
PD02
✓
Biomarkers
PD03
✓
Epidemiology
PD04
✓
Food Hygienics
PD05
✓
Food Processing
PD06
✓
R&D of Functional Foods and Nutraceuticals
PD07
✓
Taste and Olfaction
PD08
✓
Others
PD09
✓